By Yvonne Carrasco
Dodgers.mlblogs.com
July 22, 2015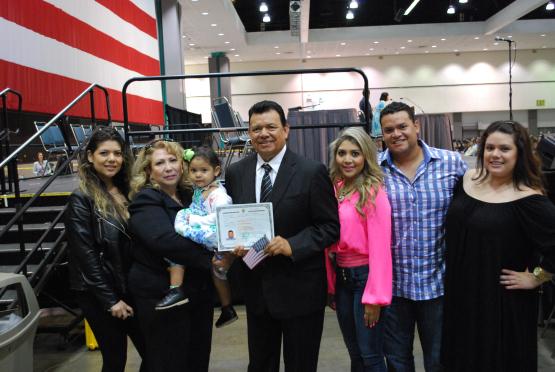 Thirty-six years after first entering the U.S., 34 years since Fernandomania began and 25 years after his unforgettable no-hitter at Dodger Stadium, Fernando Valenzuela has added another benchmark to his American dream.
Today, Valenzuela became a U.S. citizen.
The Dodgers' legendary lefty raised his right hand and took the Oath of Allegiance at a U.S. Citizenship and Immigration Services (USCIS) naturalization ceremony to become a U.S. citizen this morning in downtown Los Angeles. While a private and smaller ceremony could have been an option, Valenzuela chose to join nearly 8,000 Angelenos hailing from more than 130 countries in taking this big step.
Valenzuela also shared this special day with his wife Linda, who became a U.S. citizen a few months ago and with whom he's shared every major moment of his life and career, and his family.
Valenzuela, a native of Etchohuaquila in Sonora, Mexico and a living example of the American dream, now has the rights and privileges that come with U.S. citizenship. Valenzuela first moved to the U.S. in 1979 shortly after signing with the Dodgers on July 6 that same year. His career in MLB, both as a player and broadcaster, spans more than three decades.
The Dodgers extend their congratulations today to one of the most iconic Dodgers of all time. Valenzuela's cultural impact on Los Angeles and on baseball is immeasurable. What we do know is that our stadium is always filled with faces he directly inspired, fans whose parents or grandparents proudly noted that someone who looked like them and who came from Mexico was a Dodger and was selling out the stadium each of his starts. Regardless of background, however, today we are all proud Americans just like Valenzuela.
To learn more on naturalization and the process of becoming a U.S. citizen,
please visit the USCIS website
. If you'd like to read the Oath of Allegiance that Valenzuela took this morning, you can
view that here
.